The 17th day is a wonderful day in the countdown.
The 17th day brings us to the number of my favourite non F1 driver of all time.
It is the number of the legendary, the laconic, the #1 Ford man in the history of Australian motor racing, the one, the only, Mr Dick Johnson.
1977 Ford Falcon XC V8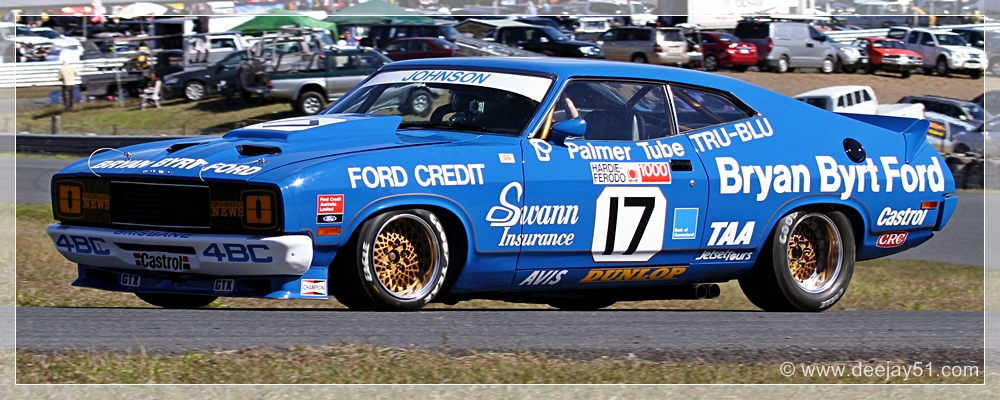 http://www.deejay51.com/LAKESIDECLAS2012/LAKECLASS12%20HEADERB.JPG
1980 "Tru-Blu" Ford Falcon XD V8
http://kartingmadness.com.au/wp-content/uploads/2016/11/Dick-Johnson-Tru-Blu-Replica.jpg
1982 "Greens Tuf" Ford Falcon XE V8
http://2.bp.blogspot.com/-H_EgXulifxc/Uk9ChhONLdI/AAAAAAAADtI/uLUVlIy1MiI/s1600/djgreentuf.png
Dickies accident in quali for Bathurst 1983 ( listen to that beautiful V8 roar)
The great man himself & his 1985 Ford Mustang GT V8
https://motoring.pxcrush.net/motoring/general/editorial/dick-johnson-ford-mustang-adelaide-1986.jpg?height=427&width=640&aspect=fitWithin
1987 Ford Sierra Cosworth RS5000 (The fastest Sierra in the world)
https://i.pinimg.com/originals/b8/25/d2/b825d2fa52d2dc23b7a07ad09d9404a5.jpg
1992 Ford Falcon EB V8
https://d3lp4xedbqa8a5.cloudfront.net/s3/digital-cougar-assets/momo-media/16571682/dick-johnson-falcon-racer.jpg
1989 NASCAR Ford Thunderbird
https://diecastcrazy.com/media/dick-johnson-australia-nascar.55512/full
The man, the legend
https://media.apnarm.net.au/media/images/2018/11/25/imagev1e9b7bbb5fadbd913e492a9968cde585a-6se3gnc2w7m6vsjqcr2_ct677x380.jpg
_________________
Races since last non RB, Merc, Ferrari winner (After Styria - 20) - 140 & counting.( Last win, Lotus, 17/3/13)
Non RB, Merc, Ferrari podiums won in Hybrid era - 366 trophies available, 27 won
2017 WCC CPTTC - Jalopy Racing (Herb & Me)