UnlikeUday wrote:
Argentum wrote:
The new paddock trucks?


[Unsourced image removed]
I find them gorgeous.
But surely, the shade should be a little darker.
The weak or pale shade of Pink is what keeps it from being more appealing to the eye. generally outside of wall colors or perhaps boats, pale shades tend to not draw the attention of our brains. And as of the last 5 or so years even boat manufacturers have begun to paint their boats with very rich colors, though the traditional pastel options are still available for the purist boat aficionados.
Here's a quick down and dirty adjustment I mage to the livery sitting above the original, and even this slight little tweak makes it so much nicer.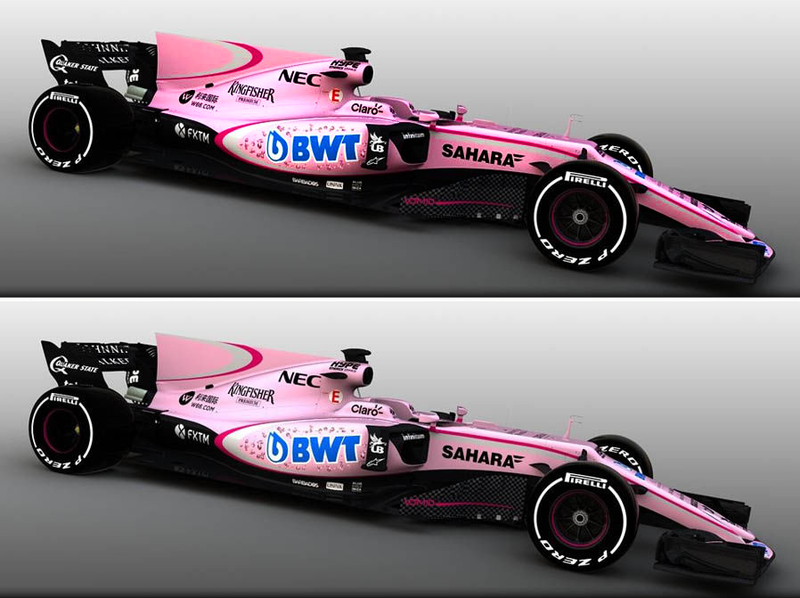 As for Ferrari's shade of red being the same year after year… YES, most definitely. The actual color is Scarlet Red and it is most often called Ferrari Red, and the genuine stuff is not cheap! My dad was driving my brother's car to work and some rich guy smashed him in the right rear quarter panel but luckily the guy's brother owned a body shop that specialized in repairing and refinishing Supercars and he had the stuff on hand and offered to re-paint my brother's car (which was already red) in Ferrari Scarlet Red. The little pint was several hundred dollars!

I've seen almost every Ferrari F1 car at a local Ferrari store here and they've all been the exact same color as my brother's old car, but depending on lighting and light intensity it can seem a bit more crimson or red-orange. It's such a rich tone of red that it will seem to register differently like that and photography is all over the place because different cameras and different lenses interpret colors and detail differently, not to mention that every photographer prefers different settings.