Germany update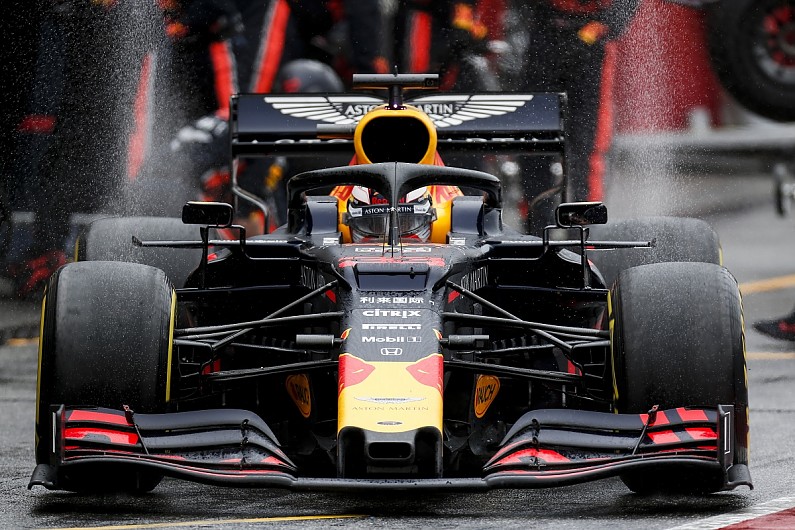 Source https://d2d0b2rxqzh1q5.cloudfront.net/s ... 620e2e.jpg
Germany a circuit that brought heartache last year with a rain shower. Would this year be any different ?
NO! It wouldn't, this race started out behind the safety car with 3 parade laps letting the drivers get a feel for the conditions and also allowing the cars to remove some of the water on track. That was about all the organization that took place here.
At lights out the mercs got off to a great start on the damp track as max verstappen got off to a poor getaway. But just like in Austria mad max would soon claw his way back up the ranks and was filling bottas mirrors with a charging bull. But a last his attempts Would be in vain as the grip just wasn't quite there yet to execute such a move.
Magnessun would be the first brave sole to slap on some slicks. Triggering a domino effect down the paddock as leclerc, verstappen and Lewis would follow suit. Here ladies & gents is where things get a bit slick as mad max went for a spin but remained undamaged, leclerc would slide straight into a wall that he narrowly avoided 2xs before and Hamilton would hit the same wall breaking his front wing.
Everyone rushed back into the pits under the safety car and mad max would come out in the lead as Hamilton dropped to 5th after one of the worst rushed pit stops in merc history. The race would resume and more carnage would ensue as Hulkenberg crashed out with what was an amazing drive up to that point. Lewis would have another slide. Both haas cars would once again collide. Bottas would crash out. Gasly would rear end albon. The hits just kept on coming like a 80's rock band but when the dust settled it was mad max verstappen whom took home the win, home town hero Sebastian Vettel would claim 2nd after starting p20 and the torpedo Danil kvyat would once again grace the podium. What a race...
In our race though it would be far less exciting as the lowest scores of the games history would be achieved. None the less we have 2 winners this round.
Congratulations to Jn23 & Toda11blue for winning the German GP



🥇Jn23 20 🏆 & Toda11blue 20 🏆
🥈Mayhem 17
🥉Exediron 14
———————————-
4- Unlikeuday 12
5- Icemanjee1 9
6- Bancieri 7
_________________
PF1 pick 10
2016
: 7th (1 win, 4 podiums),
2017:
17th (3 podiums)
Awards
: Sergio perez trophy & Podium specialist
PF1 pick 3
2015
: constructors 2nd, singles 5th
Autosport Gp
2016/17
- 5th
F1 Oracle
2017:
2nd (6 wins),
2016:
5th (2wins)