Canada update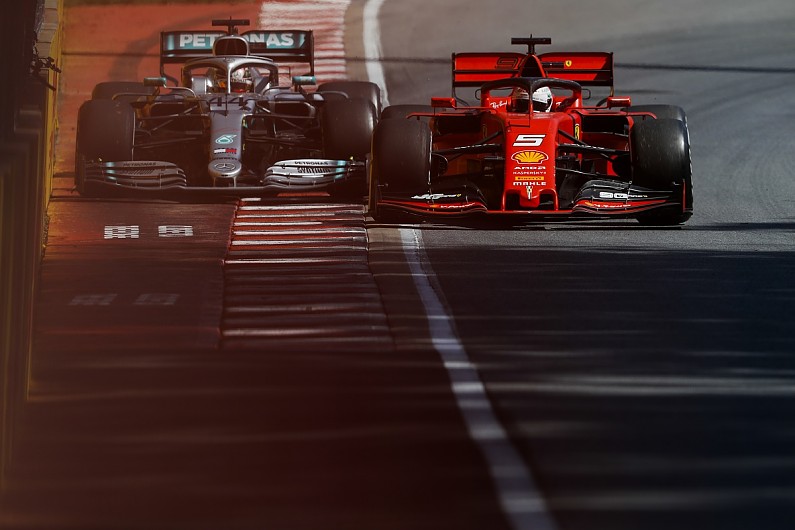 Source:https://d2d0b2rxqzh1q5.cloudfront.net/sv/2.183/dir/aa3/image/aa353841bd5361dbb368b6080d457c0c.jpg
Formula 1 returns to its original high speed street circuit in Canada. A circuit which often brings engine upgrades, this year it was only Mercedes whom brought a new engine. Would it be enough to match the straight line speed of the Ferrari ?
In practice the mercs took the stage early in morning practice leading the way but in the evening the Ferrari showed some serious pace. We also saw a error from Lewis Hamilton which brought him a lot closer to the wall then he would have wanted ending his session abruptly.
In qualifying Ferrari and Mercedes both took turns at the top of the time sheets. In Q3 Hamilton looked poised to rack up yet another pole setting purple times across the board on both of his runs but it was not to be as Sebastian Vettel clawed back two tenths and then pulled away by two tenths in sector 3 alone securing pole and ending quite a long drought.
On race day we were going to be in for a treat. A high speed circuit, the 2 best drivers in the business nose to tail who would come out on top?
At lights out the top 3 Vettel, Hamilton & leclerc checked out and were out of reach for anyone else. Lewis Hamilton was in hot pursuit of Sebastian Vettel pulling in the gap but then losing it as he locked up at the hair pin pushing his car to catch Vettel. When Vettel ducked in for fresh rubber Lewis went for the over cut which looked very much possible had it not been for the fact that his tires were done never really giving him the chance to execute the over cut.
Once on the hard tires the Mercedes race pace came alive and the fight was on once again for the lead!! Vettel and Hamilton were now closer then they had been all race with Vettel being given fuel level warning from the pit wall. Lewis was on full attack with both drivers racing to the limit. Vettel loses the rear of the car and commits an error forcing him off track. He rejoins only to find Hamilton in the same space. The cars come millimeters to each other And Hamilton is forced to back out of it. Lewis now losing the opportunity to challenge for the lead and seb just narrowly escaping with the car intact. The incident would go under review and Vettel was issued a 5 sec time penalty. The 2 drivers would continue to fight throughout the remaining laps but the race winner was already determined as Lewis Hamilton would go on to win the race.....
In our race however there was also a titanic battle, not for the win but for 4th as we ended up with a 3 way tie!!!!
CONGRATULATIONS to Mayhem for winning the Canadian GP
:thumbup:


Race results as follows
🥇Mayhem 54 🏆
🥈Bancieri 48
🥉toda11blue 46
————————
4 Icemanjee1 44
5 Jn23 44
6 Unlikeuday 44
7 Exediron 36
_________________
PF1 pick 10
2016
: 7th (1 win, 4 podiums),
2017:
17th (3 podiums)
Awards
: Sergio perez trophy & Podium specialist
PF1 pick 3
2015
: constructors 2nd, singles 5th
Autosport Gp
2016/17
- 5th
F1 Oracle
2017:
2nd (6 wins),
2016:
5th (2wins)