Round 21: Yas Marina, Abu Dhabi
The race start saw pole man Hamilton lead away from fellow front row starter Bottas, followed by Vettel, Raikkonen, Ricciardo and Leclerc, Verstappen had a bad start dropping from 6th down to 9th, a crash on the opening lap brought out the safety car when Hulkenberg's car was left upside down.
After only 7 laps Raikkonen pulled over on the start/finish straight with what appeared to be a power unit failure which brought out the virtual safety car, being so early in the race somewhat surprisingly was pitted for the hardest super soft tyres, whilst the rest of the front runners stayed out.
This put Hamilton down to 5th place behind Vettel, Leclerc had also pitted from 5th under the virtual safety car, on the restart Hamilton tried to pass Verstappen but was rebuked before he then pulled away from Hamilton who was slower on the harder tyres.
Verstappen pitted for tyres next, unlike the other front runners he had started on the softest of the tyres, the hyper soft tyres, this triggered both Bottas and Vettel to pit to protect themselves from the under cut, whilst Ricciardo stayed out, with rain in the air there was a chance of him retaining the lead if drivers had to pit for wet tyres.
There was a slight rain fall but nothing too serious and eventually Ricciardo pitted for tyres, this put Hamilton back in the lead from Bottas, Vettel and Verstappen, staying out much later lost Ricciardo track position to his teammate Verstappen.
Normally on a track hard to pass on this is how the positions would remain but Bottas started to struggle and was locking up now and again which allowed Vettel to pass him, Verstappen also passed him but not without contact him after which Ricciardo also passed him with Bottas seemingly struggling even more, Mercedes suspected Bottas had a slow rear puncture after the contact with Verstappen so was pitted for more tyres.
So Hamilton took the win from Vettel, Verstappen and Ricciardo, with Bottas 5th from Sainz who had a fine drive to 6th place.
In third place with 164 points and receiving the

"Robust Verstappen Trophy"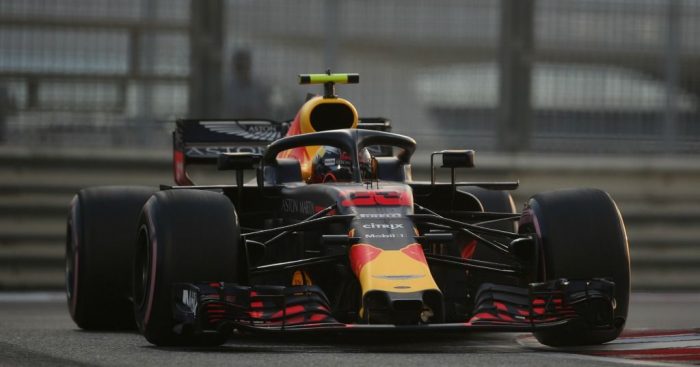 paul85

In second place with 169 points and receiving the

"Valiant Vettel Trophy"
cm97

In first place with 175 points and receiving the

"High Five Hamilton Trophy"
Flash2k11
PF1 PICK 10 CHAMPIONSHIP 2018 - ROUND 21 - ABU DHABI
1. Flash2k11 (R) 175

2. cm97 169
3. paul85 164
4. OnAGivenDay 152
5. robins13 150
6. Laz_T800 148
6. Herb 148
8. JN23 146
9. Jenson's Understeer 145
10. Remmirath 144
11. Dom1511 141
12. Exediron 140
13. Icemanjee1 138
14. Tufty 135
15. UnlikeUday 133
16. Bentrovato 131
16. KCGP28 131
18. MistaVega23 124
18. TheDamus 142 (FP2 Penalty -18) 124
20. Pisco Sour 121
21. pokerman 117
21. tim3003 117
23. Lotus49 112
24. Black_Flag_11 107
25. P-F1 Mod 104
26. Mod Titanium 118 (FP1 Penalty -15) 103
26. F1_Ernie 103
26. specdecible 118 (FP1 Penalty -15) 103
29. purchville 102
30. jzusy 100
31. Covalent 115 (FP2 Penalty -18) 97
32. Mayhem 106 (FP2 Penalty -18) 88