Source: http://www.motownindia.com/Bureau/Motor ... dia-Bureau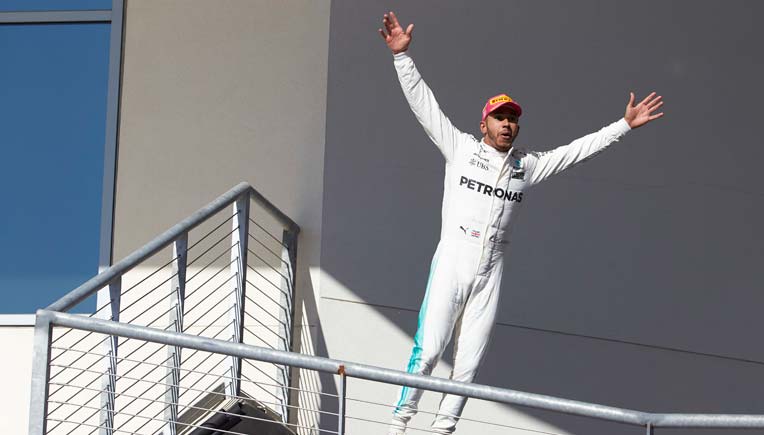 2017 UNITED STATES GRAND PRIX RESULTS
A very exciting race once again yields a fairly flat result in the predictions championship: almost everyone correctly foresaw that Lewis Hamilton would continue his dominant form - both in Austin and, lately, everywhere - and the vast majority also saw that Sebastian Vettel would slot into his now-accustomed place of second. It was on the issue of third place that the predictions were more varied, with entrants going for both Red Bull drivers, Bottas, or even Vettel.
However, not a single one went for Kimi Raikkonen, the man who actually ended up in that position! So there's a huge pile of joint-winners with first and second correct.
Honorable mention to Fountoukos13, who was the winner with a Perfect Podium for about two minutes.
----------------------------------------------------------------------------------------------------------------------------------------------------------------------
First Place - 8 points
TypingChicane, Icemanjee1, robins13, Exediron, Mayhem, Jenson's Understeer, mcdo, Lotus49, Herb, Bentrovato, TheDamus, Fountoukos13
Second Place - 5 points
Black_Flag_11, Remmirath
The Rest - 0 points
Jezza13, cm97
Did Not Start
theferret
----------------------------------------------------------------------------------------------------------------------------------------------------------------------
With pretty much everybody scoring the same thing, there isn't too much movement. What there is mostly consists of those who failed to match the prevailing prediction tumbling down the charts.
The first of those is Black_Flag_11, but it's a small tumble; having predicted Hamilton correctly - but not Vettel - he only loses a single place to Icemanjee1, although Exediron is now very close as well. Jezza13 is less fortunate; scoring no points at all in a generally high-scoring round, he falls from 5th all the way to 9th, and is now the first of those more than a Perfect Podium outside the lead.
Further down, cm97 also failed to score and loses two positions, falling to 12th behind Mayhem and Jenson's Understeer. The other entrant to lose places is theferret, who once again fails to enter a round and falls to last place. He won't be declassified from the championship, since he's actually on a team - but if Bentrovato finds another driver to replace him, he will be.
Individual Standings - Round Seventeen
1.
TypingChicane ---
78 Points2.
mcdo ---
76 Points3.
TheDamus ---
72 Points4.
Icemanjee1 ---
69 Points5.
Black_Flag_11 ---
68 Points6.
Exediron ---
67 Points7.
Bentrovato ---
65 Points
(2 Perfect Podiums)
8.
Herb --
65 Points
(1 Perfect Podium)
9.
Jezza13 ---
62 Points10.
Mayhem ---
57 Points11.
Jenson's Understeer ---
56 Points12.
cm97 ---
54 Points13.
Fountoukos13 ---
50 Points14.
Lotus49 ---
48 Points15.
robins13 ---
46 Points16.
Remmirath ---
42 Points17.
theferret ---
39 Points
In the team standings, things are surprisingly a bit livelier! The top two teams both contained one of the two entrants who failed to score a point, and as a result have seen their leads dashed apart. Jalopy Racing maintains the top spot for the moment, but Bernie's Bwoah has lost at least one position to McLotus. Since my championship file with all the tiebreakers isn't on my laptop, I don't know if they've lost third place to No Limit Excedrin Racing as well - we'll have to wait and see about that one, but the top four are now separated by just 4 points!
A little further back, Mind Your Manors slips ever so slightly off the rear of the 2015 champs due to Black_Flag_11 dropping 3 points on the No Limit drivers, but they're still very much in the hunt. The Drive Sauber partnership scored the same as the 2016 champions, and maintain their 4-point gap.
At the back, we finally have a fight on our hands once more; Sand Bag'n may have waited too long to take the sand bags off, but they're finally scoring again, and scoring well. With theferret out of the picture right now, they've reeled in Bentrovato's one-man team (something I think I've said before; he doesn't have the best luck with teammates) and are now in position to actually occupy a place other than last. Exciting times are upon us!
Team Standings - Round Seventeen
1.
Jalopy Racing
(Herb & Jezza13)
---
127 Points2.
McLotus
(Lotus49 & mcdo)
---
124 Points3.
Bernie's Bwoah
(Icemanjee1 & cm97)
---
123 Points4.
No Limit Excedrin Racing
(Exediron & Jenson's Understeer)
---
123 Points5.
Mind Your Manors
(Black_Flag_11 & Fountoukos13)
---
118 Points6.
Drive Sauber
(Remmirath & TheDamus)
---
114 Points7.
Massa Attack
(theferret & Bentrovato)
---
104 Points8.
Sand Bag'n
(robins13 & Mayhem)
---
103 Points
CHAMPIONSHIP PICTURE
With 42 points left to play for, everyone is still in mathematical contention for the championship. However, that won't stay true for very long; if theferret fails to score a Perfect Podium in Mexico he will be the first to be eliminated, and as many as 11 drivers stand to be potentially eliminated if the leader scores a Perfect Podium of his own and they fail to gather a point.
Starting with next race, eliminated contestants will have their names marked in red on the standings table. No teams will be eliminated until at least the next race, but the same will be true for them once they start to fall out of mathematical contention.
Further note! Since I'm typing these results up manually without my usual file, please check them for accuracy, and if you think your results are not correct, let me know!