One of the first books I ever read on F1 was a concise history of some of the drivers, written by Nigel Roebuck, called "Grand Prix Greats". I read most chapters several times after getting a copy of the 1986 issued hard back:
Each chapter discusses the history and some anecdotes about the driver in question. They include: Amon, Mario Andretti, Ascari, Behra, Clark, Depailler, Jones, Lauda, Moss, Peterson, Piquet, Pironi, Prost, Regazzoni, Reutemann, Rindt, Rosemeyer, Senna, Stewart, Gilles Villeneuve and more.
Contents: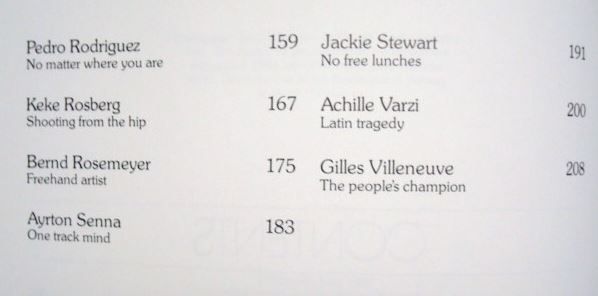 Interesting to consider that Senna made it into a book called "Grand Prix Greats" after just 2 seasons in F1 (84 & 85). The book covers pre-F1 figures too. There are some fantastic photos along with an artists portrait of each driver at the beginning of the chapters: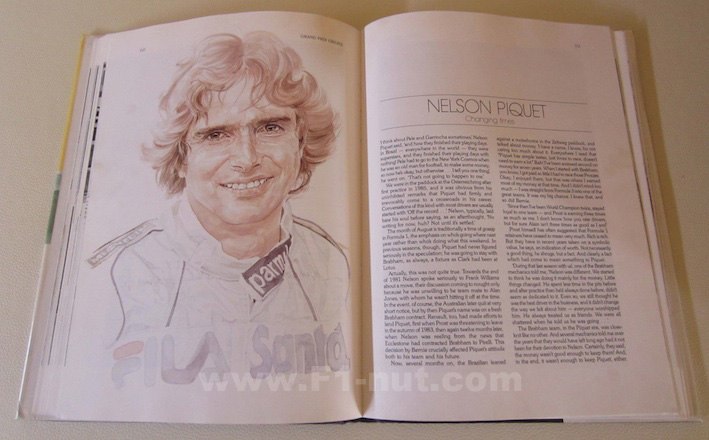 I haven't been able to track down my copy of the book for many years but it's bound to turn up somewhere...maybe in my parents' attic. One quote I recall was Roebuck questioning someone "Isn't it a shame that Senna dropped the da Silva part of his name to go racing...the name Senna da Silva sounds like a racing driver's name?...The response came, referring to the flowering plant called senna that is used in laxatives, "No, because that's precisely the effect he has on me", or words to that effect


The inside back cover of the hard copy also had this photo, one of my favourite F1 photos:
A great book for anyone interested in a circa 1980's portrayal of some of the finest drivers in Grand Prix motor racing history.