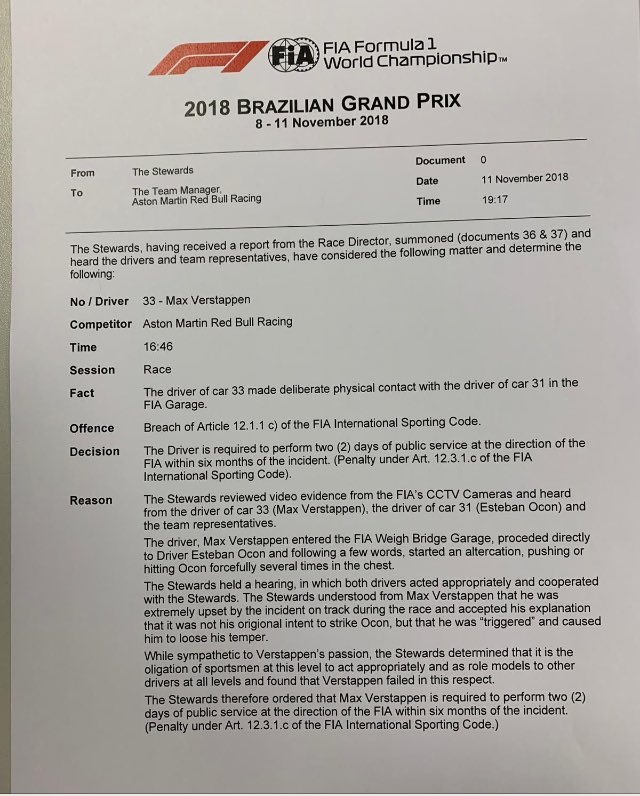 This is a load of codswallop.
Even the wording of this looks to be designed to placate and, in a way, vindicate Verstappen and his actions.
It wasn't his intention to strike Ocon but he was "triggered" and that caused him to lose his temper?
Well if he went into the garage without the intent to strike Ocon, what the hell triggered him then to cause him to do it & does that go, even partly, any way to justifying what he did?
"While sympathetic to Verstappens passion"
? What makes his passion so noteworthy above Ocons and why is that even relevant to the incident? What'd the guy do? Break down & cry in front of the stewards?
Is it appropriate? No.
He should have been penalised for the next race. Do you really think picking up rubbish on a roadside or cleaning dog crap at a shelter or any other community service for 2 days will make him see the error of his ways? No chance.
Verstappen only understands 1 language and that's the language of F1. Can we honestly say Dad, Marko & Horner will be saying anything to kerb his aggression after the handbags at 10 paces stoush with Ocon? Highly, highly unlikely.
He will only start to learn when his actions start to cost him & his team points & money & when his bosses & old man tell him to pull his head in.
_________________
Races since last non RB, Merc, Ferrari winner (After Abu Dhabi - 19) - 138 & counting.( Last win, Lotus, 17/3/13)
Non RB, Merc, Ferrari podiums won in Hybrid era - 360 trophies available, 26 won
2017 WCC CPTTC - Jalopy Racing (Herb & Me)