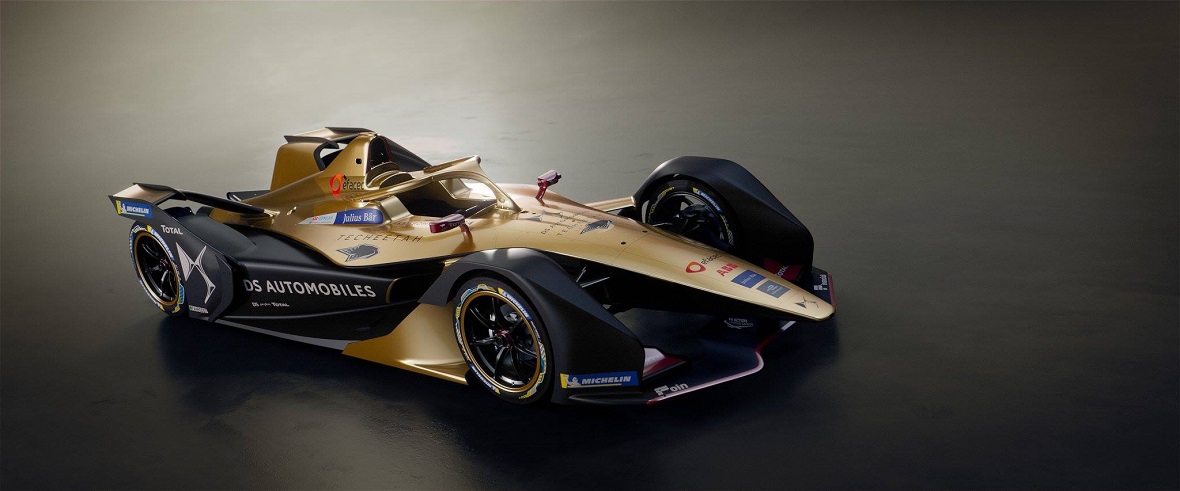 Source: DS-Techeetah
Website
:
http://www.fiaformulae.com/en
Twitter
:
https://twitter.com/FIAFormulaE
SEASON START
: 15 December, Riyadh
PRE-SEASON TESTING
: 16-19 October, Valencia
A NEW ERA BEGINS
This season, Formula E is taking a step further into the Motorsport legacy. As the Generation 1 cars completed their very last race in the streets of New York, with the Title clinched by
Jean Eric Vergne
, a new Era is about to begin.
The all-electric serie is ready to write history with the debut of the
Generation 2 car
: a more powerful, more aggressive, longer lasting electric car that will change the way of watching Formula E.
New cars, new circuits, new rules, new constructors, new faces: the Season 5 of Formula E will feel like a brand new start.
Let's dive into it!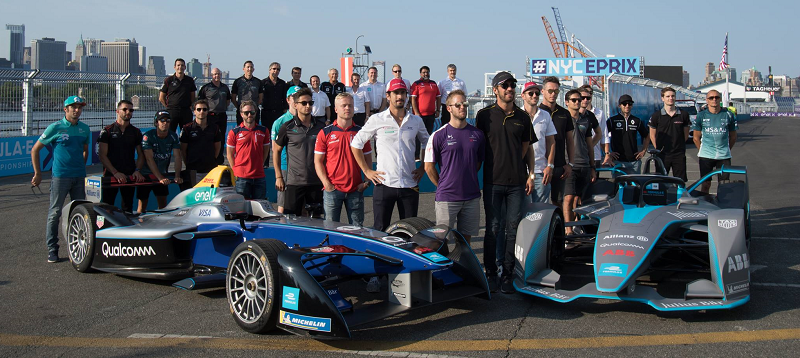 Soruce: ABB FIA Formula E
THE GEN 2
The
SRT05e
was designed by Spark Technologies under FIA's instructions (the first sketches were made by Jean Todt himself), utilizing a
Dallara spec chassis
.
This is a
low drag
, electric beast: every angle of it is designed for the
maximum aero efficency
: covered front wheels, no rear wing (except for two, adjustable flaps).
Along with the more powerful battery (+50 kW), this leads to an
increase of more than 50 km/h in Top Speed
(from 220 to 280 km/h).
Combined with a F1-esque 0-100 km/h acceleration (
2.8 sec
), those cars are set to improve lap Gen 1 lap times dramatically!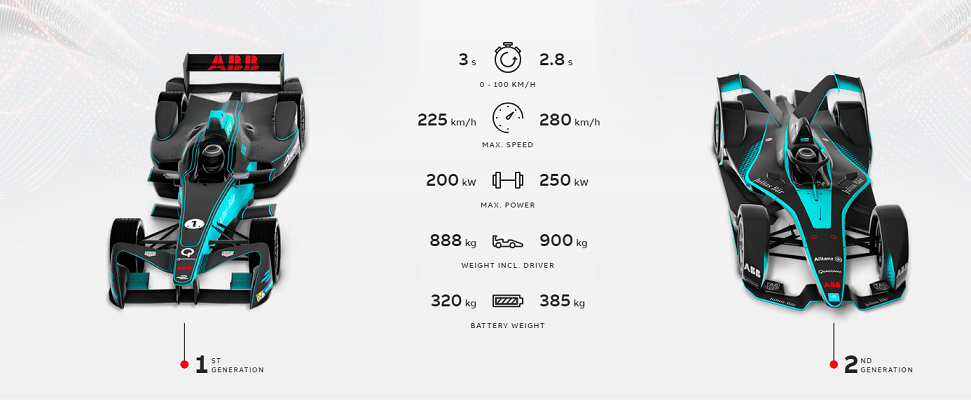 Soruce: ABB FIA Formula E
MORE CARS, MORE FUN!
The new Formula E season brings new faces into the championship: Andretti operations are taken over by
BMW,
while Renault is leaving space to
Nissan
.
And with the arrival of the
HWA AG
(German racing team with great DTM records), Season 5's FE grid will feature
22 cars
!
The number will rise up even further in
Season 6
, with the arrival of
Porsche
&
Mercedes
Factory teams, making Formula E the most relevant championship in terms of constructors presence. (9 of them).
SEASON 5 REGULATION CHANGES
- No More quali lottery. (apart from the first race)
There will be 6 cars (max) groups, determined by championship position with the best placed driver in the first one.
-
NO MORE CAR SWAPS
. The cars will be able to complete the 45 minutes race with little energy saving.
In order to mantain a strategic element in the racing, the "
Boost mode
" will make its debut.
Similar to the WTCC's
Joker Lap
, drivers will have to run over a specific section of the track before activating a
+25 KW
boost that can be used for
8 minutes
.
It's up to the driver & the team to decide when to use it, opening interesting strategic opportunities! (not at the start or in the final lap),
-
RACE LENGHT
will be no longer determined by a certain amount of laps.
The e-Prix will be
timed in 45 minutes
+ 1 lap after the timer reaches zero.
PRESENTED CARS
AUDI
Source: Audi Sport
VIRGIN-AUDI
Source: Envision Virgin Racing
DS-TECHEETAH
Source: DS Techeetah
JAGUAR RACING
Source: Panasonic Jaguar Racing
BMW
Source: BMW Motorsport
NISSAN
Source: Nissan
VENTURI
Source: Venturi Automobiles
HWA RACELAB
Source: HWA racelab
NIO
Source: e-Formel.de
THE LINE-UP
DS Techeetah
: Jean-Eric Vergne - André Lotterer
Audi Sport Abt Schaeffler
: Lucas di Grassi - Daniel Abt
Virgin-Audi
: Sam Bird - Robin Frijns
Mahindra
: TBA - TBA
(Pascal Wehrlein is rumored)
Jaguar
: Mitch Evans – Nelson Piquet jr
Nissan
: Sébastien Buemi - Alexander Albon
Venturi
: Felipe Massa - Edoardo Mortara
NIO
: Oliver Turvey - Tom Dillman
Dragon-Penske
: Josè Maria Lopez - TBA
BMW
: Antonio Felix Da Costa - Alexander Sims
HWA-AG
: Stoffel Vandoorne - Gary Paffet[/i]
THE CALENDAR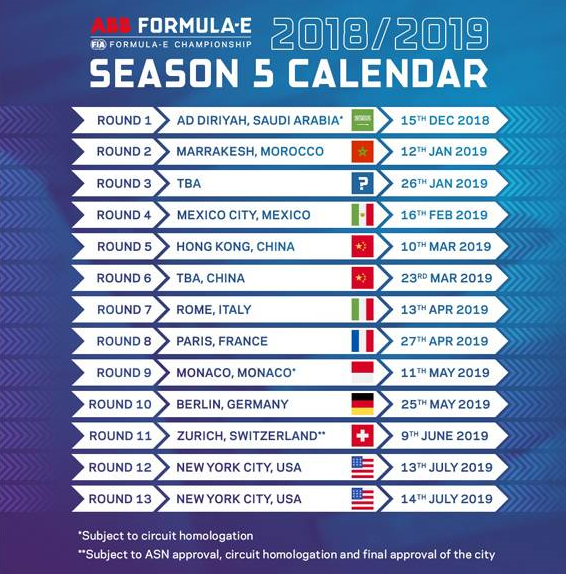 Source: ABB FIA Formula E
*round 6 is confirmed in Sanya, China