mds wrote:

Well, let's say my memory of discussions around various fora, including here, is different than yours...
I'm pretty sure that Singapore was pegged as the last track where Ferrari would have a real edge and the rest of the tracks would mostly favor Mercedes, with Vettel already behind in the WDC, hence the need to get away from Singapore with as much daylight between him and Hamilton as possible. 7 points, at that point, looked vital to keep chances alive for the following races.
I think it's true it was the last track that was nailed on favourite for Ferrari but Monza was the last nailed on Mercedes one as well. Track conditions,tyre selection and pressures had decided competitiveness pretty consistently until Spa which turned a few predictions on its head with Ferrari's pace on harder tyres and pressures and on a layout that suited Merc.
We were expecting another GB and we got Ferrari arguably quicker on Sunday which is what left the remaining tracks up in the air a bit.
Quote:
They weren't competitive in Brazil, and Monza was, ahead of the weekend, always going to be a Mercedes weekend - regardless of the way Ferrari screwed the weekend up when looking at it in hindsight.
They won and missed pole by 0.038 in Brazil. Obviously with Lewis crashing it's hard too say how quicker he could of gone but he was outqualified in AD by Bottas and his race pace in Brazil while strong is irrelevant as he was thrashing a new PU.
It is hindsight for Monza but they messed up so bad they were slower than Red Bull so we can't take anything from it.
Quote:
The goal is not "holding on to first for the weekend", the goal was winning the WDC. Where Hamilton is on track is largely irrelevant when having to maximize your own result when you know your competitor is expected to be mostly ahead of you for the remainder of the season.
But that's the point, it wasn't nailed on Mercedes tracks in the run in. They've struggled in Malaysia most years, S1 in Suzuka is all Ferrari,AD was favoured for Ferrari because of S1/3 and COTA is similar to Malaysia/Spa in layout and being aero efficient tracks and Ferrari had been quicker on race day in similar conditions in Spa. Mexico is tricky because it's high d/f but highly PU dependant.
There was still so much up in the air at that point and it was a track Mercedes weren't a threat. I don't think the situation warranted that level of aggression at the start. Here's Pat's prediction mentioned earlier...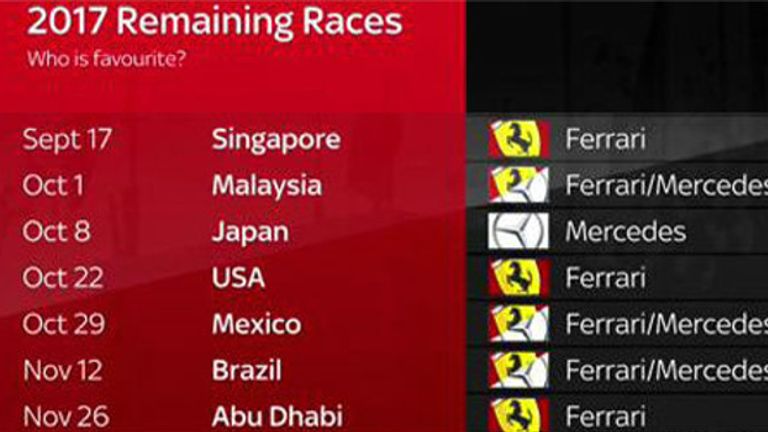 http://e2.365dm.com/17/08/16-9/20/skysp ... 0831124935
Quote:
Still, Vettel makes it at least a bit harder for Verstappen while making it a bit easier for himself. Improving the odds no matter how you look at it.
Agree, I just don't think he needed to.
Quote:
We can definitely say Vettel didn't do anything actually wrong, while Alonso did.

But even if you don't agree, davidheath's position of blaming Vettel and not Alonso is still exemplary of the bias he's carrying. Probably also the reason why he hasn't responded since I mentioned it.
I think you can say he was too aggressive with the move but yeah I don't agree with davidheath although I do think that Alonso's move was actually in 2 parts and the aggressive squeeze was the first part and the part I don't like, but the contact comes after Alonso moves to the right but opens his steering in what I assumed was a response to Button and that led to the contact but its neither here nor there, I can understand Alonso getting the blame because of the initial squeeze.
Quote:
Not from me he wouldn't - as long as he didn't leave less than a car's width of space.

I guess there will be different views on Sebs manoeuvre for years to come. At least we agree that it wasn't borne from cracking under pressure.
Agree yeah.