Exediron wrote:
And in all honesty, I think there is plenty to attack about your post in terms of objectivity. Many of the points you raise in favor of Schumacher are complete intangibles - you think he was capable of an extra level and say Alonso never was, but there's plenty who'd disagree with that, and I'm certainly one of them.
What did he show in 2006 akin to Michael rope-a-dope dummy at Imola, or the nearly pulled off undertake at Bahrain? Again, it was the mirror reverse at Nurburgring and the difference between the races was clear. I'd say Alonso's best race that year was Hungary, but of course that was on Michelin wet tyres in the fastest Michelin car, it wasn't exactly a Spain '96 performance. I'm all ears.
Exediron wrote:
Additionally, the idea that Schumacher was driving his car on the limit and making more mistakes while Alonso was in 'cruise and collect' mode is something that's been around since 2006, used by Schumacher fans to attack Alonso, and doesn't have an ounce of truth in it (in my opinion). Offering that sort of factually unfounded one-sided argument is why people might have felt your post was less than objective.
Tell me HOW you think it's not true. I can give an example of why it is -here is Alonso's radio transmission at Australia (you only need to listen to that clip, not the whole video):
https://youtu.be/Lz2zabfNKF8?t=5m17s
. It is inherently easier to stay within the margins of error when you're collecting points than when you're racing on the limit to catch up. Michael went off in Australia doing just that while Alonso radios in saying "I'm very relaxed".
The risks requirements were different for FA and MS. Is it not inherent for a chaser to take more risks to catch up than the person with a points lead? Even in the second half of the season when Michael was bearing down on Fernando, he was still playing catch up, while Fernando's only job is to collect a minimum 3rd place at Bridgestone circuits, as he was the fastest Michelin car. But Alonso had some cave ins at USA and a big off at Hockenheim, while not needing to take any risks at all. Michael was many points behind with a dwindling number of races to catch up with. The risks meant incidents like Australia, Turkey, etc. But what are "errors" here? If we count those errors of Michael, should we not also count the inconsequential ones like Hockenheim (lucky for Fernando there was no wall there) or doesn't denouncing your own team's support after China count as an error? What about brake-testing Doornbos, shouldn't that be an error under pressure too? What errors on those levels did Schumacher make?
Don't be quick to say Monaco qualy, because that isn't a driver error, that's what MS does with regularity, and is designed to improve his results, unlike brake-testing back markers or turning on your own team, which are raw cracks under pressure. To MS, these things are legitimate calculated actions. He did the same thing at Austria 2000 on the first corner of the race, hardly anyone remembers that though. He went off, then brought his car to the middle of the track then stalled his engine to prevent the marshals pushing his car away. It seemed that he was trying to bring out the red flag to get the race restarted!
This, incidentally, is more of the "extra genius" level that MS possesses and FA doesn't. MS he doesn't "respect" the rules, he races rules like they're any other corner, track or competitor. Others play within the rules (inside the box). MS sees the rules as just a box.
It's another aspect of his "greatness" in his quest to win in the sport is also what rubs most people the wrong way. That being, seeing the rules as part of the task rather than a moral standard. Some revere rules and laws, Michael takes them on. It is a philosophical superiority.
Exediron wrote:
Appeal to Authority is only a logical fallacy in scientific discussion (which this isn't) and if the authority being mentioned doesn't have superior knowledge to the people involved in the debate. Whatever you observed during the 2006 season, Massa saw more, and he knows more about Schumacher and Alonso than you possibly could.
Appeal to Authority is
logical
fallacy, not an exclusively scientific one (
https://en.wikipedia.org/wiki/Argument_from_authority
). What makes it a logical fallacy is that just because someone in authority makes a claim, it doesn't make it more valid than a claim from someone not in authority, if that other claim is informed and reasoned. F1 is littered with pundits, drivers and insiders making claims and predictions which disagree with each other and/or get later proven to be wrong (e.g. Kimi is the fastest man in F1). My linking to Pat Symonds was supposed to show that Massa isn't the only word on the MS/FA question, and I believe my logical arguments prove him wrong. I will paste a couple of the points again and then elaborate some more:
1) The 2006 cars were easier to hit the max performance level than the '10-'13 cars were, and therefore really showed the speed differences of the drivers more.
2) Felipe is a "head driver", his performances vary greatly on how confident/happy/supported he feels. He had all the support in the world in 2006 and was under the tutelage of a teammate he often refers to as his "teacher", but was really getting his head done over by Alonso's politics during the '10-13 run.
on 1), the 2006 cars were packed with TC and ran on solid tyres, while the '10-'13 cars were more wiggly and had tyres that had to be conserved even in Q3, so the differences in driver performances should have been exacerbated during '10-'13, yet the pace gap was larger in 2006.
on 2), Massa was Ferrari's favourite pet in 2006 and had all the moral support in the world, but was treated like a whipped mule during '10-'13 which was affecting his head, even Massa said he was having mind management problems in a 2011 interview in the pen.
Exediron wrote:
As far as the Symonds article, it's an interesting piece (and I hadn't seen it before, so thanks for posting) - however, I don't see it as supporting the conclusion you claim (MS is faster, more determined, and a better team leader) so I have to say I think you're reading it with a bit of confirmation bias. There are only two paragraphs that directly compare the two:
"

Fernando was incredibly competitive, had the same total self-esteem of Ayrton and Michael. They know they are the best. He was a great racer, not quite as outright quick as Michael, maybe, but still very, very quick. At the times I worked with them I'd say Michael was the quickest, then Fernando, then Ayrton. But it was Ayrton's first year and I'm sure people that worked with him when he was winning championships would disagree with that assessment.

If the car wasn't quite there Fernando sometimes wouldn't give quite everything. As a team player he let himself down on occasion and I never formed the bond with him that I did with Michael – no one on the team did. He was a bit of a loner and that's carried on into other teams. He was well very suited to that era of sprints because he was so relentless. But don't under-estimate his ability to adapt. In the right car he could still win titles. When he was with us he had a quite distinctive driving style – he'd put in very rapid steering inputs. He doesn't do that these days and so maybe it was a car or tyre characteristic. He used to wait late before going towards the apex and then very rapidly and aggressively push the car in. That was his way of killing that mid-corner understeer that's inherent in an F1 car.

"
I've bolded the bits that could be taken as comparative. In the first paragraph he does say that Fernando was not quite as quick as Michael - maybe. There's three qualifiers in that: first he says
not quite as outright
quick, which has two right there (not quite meaning he was very close, and outright quick meaning that he may have been quicker in ways other than outright speed). Then he adds maybe, indicating that it's not meant as a firm assessment at all. Furthermore, Symonds worked with Alonso only up until 2009, whereas he worked with Michael throughout his entire career. You started this debate by specifically stating that Michael in 2006 was better than Alonso from 2010 to 2013, a period Symonds has no personal experience of and isn't talking about.
In the next paragraph, he does certainly say that Alonso isn't the team player Michael was. I don't think anyone would question that statement, and I'm not about to: if Alonso was able to pull a team together around himself the way Michael could, he'd probably be somewhere around a four or five time world champion right now (2007 and 2008 at least, and probably more later). For the rest of the paragraph he talks about how fast and adaptable Alonso was, with no mention of Michael - however, since he started off talking about outright speed (which he said Alonso might lack slightly compared to Schumi) and then moved on to speaking of Alonso's adaptability and consistency, I would put forward that it might be intended to suggest those were areas he could make up for his outright speed relative to Michael.
On Pat Symonds's work with the drivers, I must correct you that he didn't work with MS over his whole career, only at Benetton. But he did work with FA during his Renault years. Perhaps you knew that but simply mis-typed. That being said, I wasn't using the article to prove Symonds confirms my conclusion that MS in 2006 was superior to FA in '10-'13, I was just adding some counterweight to the Appeal to Authority of citing Massa.
I would concede though that in terms of consistency, FA might JUST edge it over MS (and even then, not by much), but there are many other aspects of being a better F1 driver than that, which MS absolutely trounces him on.
Exediron wrote:
I'll try to read over your previous post and put together a thorough response to it. I do believe you're wrong, and I don't think Michael was ever on another level to Alonso, but I'll need to think of a better way to rebut it than just that feeling.
myattitude wrote:
Schumacher is not only better than Alonso, but better by a good measure.
This sort of blanket assertion has no place in the sort of proper debate you seem to want. What is 'a good measure?' Symonds certainly never says that.
Then allow me to elaborate.
Being a better F1 driver has a few subcategories: your ability to learn, improve yourself, emotional intelligence, innovation, invention, intellectual capacity, skills, fitness, dedication, and others. Let's take a look at some of these for Alonso then compare them to Michael Schumacher.
Perhaps the biggest impact of greatness in the comparison is how much the driver has changed the sport precisely due to how good he is. Early in his career there are fables of the seeds of today's steering wheels.
https://www.linkedin.com/pulse/driving- ... illem-toet
In a nutshell, when he was 22 he was asking his engineer for more data on his dashboard for him to analyse his own cornering speeds while on the track, so he got his team to place three new displays on his dash so he could look at them.
These early seeds continued to grow through his career and which stayed at the forefront of his and F1's development, is what we have today due to his leadership. He took those three dials off once he was satisfied, then continued to add new dials, displays, buttons and functions into the C21st. To put this into perspective, below is his 2005 steering wheel: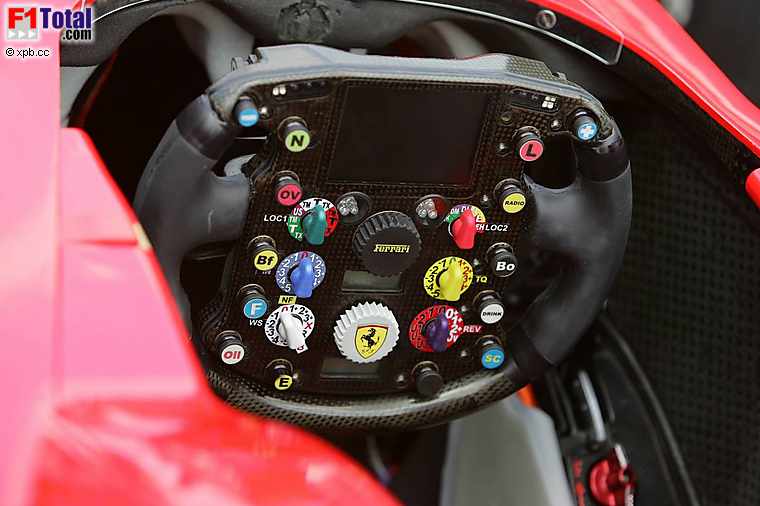 Today it looks about the same as a 2017 steering wheel. Here are the 2017 Ferrari and 2017 Mercedes wheels and you'll see they all look at a similar level: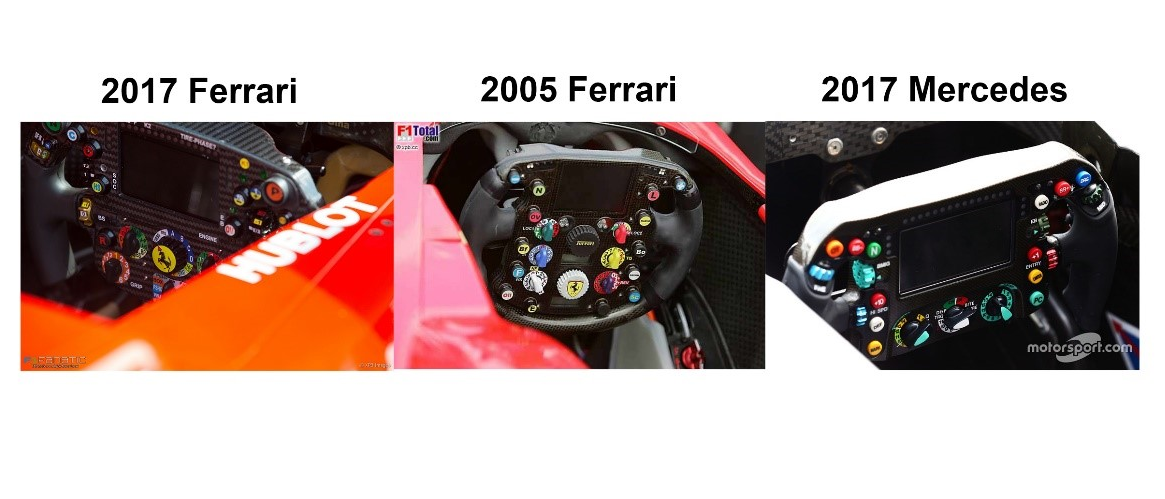 When you compare his wheel to his 2005 competitors at the time, you see the difference: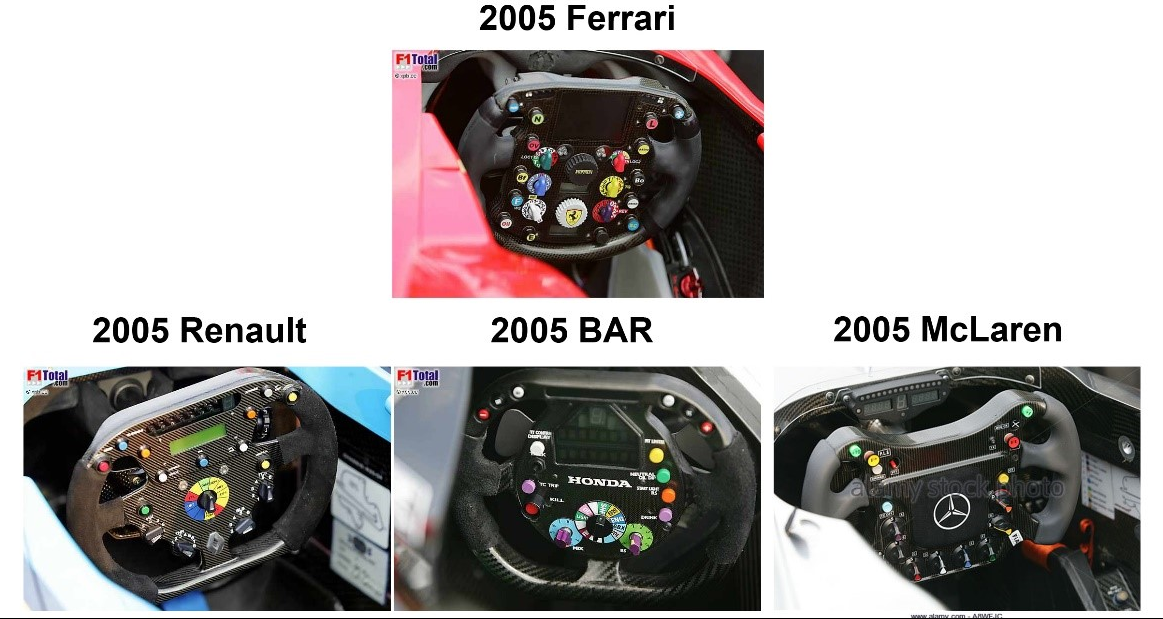 This is a visual display of how ahead of his time he was and how ahead of his field he was come the 21st Century. Plus that awkward brake balance lever he brought in which everyone later followed him with. He was playing with buttons and levers while looking in stupid mirrors like this...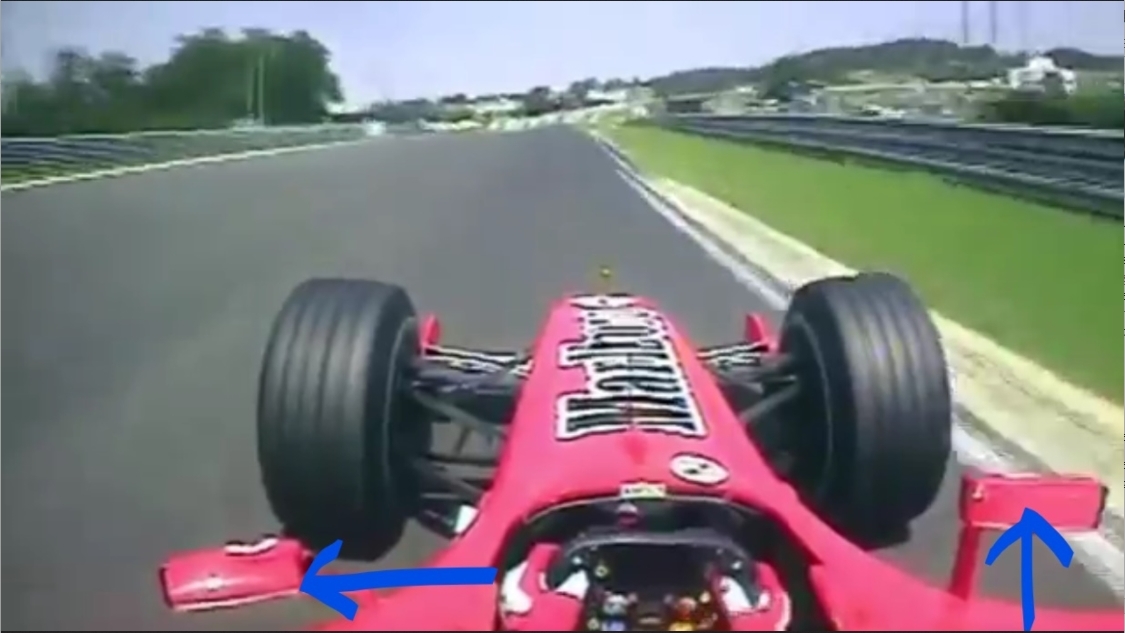 ...to observe his rear tyres, all the while talking strategy to Ross Brawn on the radio while putting in fastest laps. Only Alonso comes close to this capacity, but doesn't, and he lacks in other areas of expertise to Michael.
By the way, here is a gif showing the development of F1 steering wheels, watch what happens from the mid 90's on…
https://38.media.tumblr.com/tumblr_m720 ... o1_400.gif
So that's another aspect of becoming the "better" F1 driver, which contains the talents of intellectual capacity, invention, and innovation.
Another is revolutionising the driving styles of the whole sport. In his first couple of seasons, he was the first to change the way for F1 drivers to drive the car into the modern era and change the way F1 cars are built. This was when he brought back left-foot braking to F1 while everyone else was still heel-toeing.
This was the pedal set up Michael had purposely built for his car, compared to William's and everyone else's cars: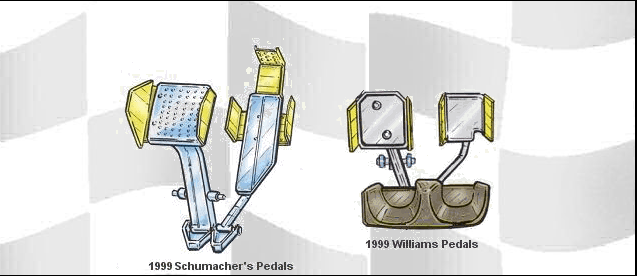 Source at the bottom of the page:
http://formula1-dictionary.net/left_foot_braking.html
…and the resulting throttle traces Vs Rubens's right foot braking were as follows:
Eventually everyone else copied the Schumacher way of driving and all the teams later adopted his pedal set up (and in a way that then made him look less special as everyone else followed his lead) and today you have 20 drivers driving the Schumacher way, driving Schumacher wheels, most of them having grown up through the formulas with what he created.
I don't want to plagiarise this blogger's image, I got that shot from here:
https://world2talkabout.wordpress.com/2 ... -analysis/
All the other drivers have done since MS is race HIS formula and achieved the results they achieved within that formula. I liken it to Schumacher being Michael Jackson, who invented a whole new dance style, invented music videos, and revolutionised the pop genre and placed his own huge mark on the industry. While Others like Hamilton and Alonso are like Usher, who came along and borrowed a lot from Jackson and could even dance like him, but they were all just dancing Michael's dance.
This aspect of MS' 'greatness' in his quest to win include innovation and personal driving improvement, and a large amount of lateral thinking.
At this point I'm hastened to say that as good as Hamilton and Alonso are, they didn't revolutionise anything in the sport during their tenures like Michael took a continuous lead in doing (at least in his first career). This makes them not as good as Michael Schumacher.
Perhaps the most important part of winning in F1 is team building. You've touched on that, so I'll just add this. His team building is well known already and I don't think I need to go into too much detail, but this is a good time to make direct comparisons to Alonso, since you and Pat Symonds have brought it up. Emotional intelligence is
vastly
underrated. Emotional intelligence affects your intellectual intelligence. It affects your bond with your surroundings such as your team, strategy, discipline, etc. It appears that Alonso needs to be happy with his team in order to get his best co-operation from him and vice-versa, otherwise he's sitting in deck chairs or shouting GP2 engine for the world feed, both of which have a counterproductive effect on team building. Michael had high expectations of Mercedes but when it was clear his glorious comeback was doomed to be mired in the midfield scrapping for the lowest points, not once did I see or hear any of Alonso's antics, especially in early 2012. Instead he took on the same approach as he did at Ferrari, and even Mercedes employees credit Michael for his tangible contribution to their current success. He doesn't design PU engines of course or anything like that, but emotional intelligence in keeping your team all focussed on one goal without all the public finger pointing is a) something Alonso lacks by a country mile, and b) is another thing he made synonymous with the Schumacher name. Ferrari said they hired Alonso in 2009 to be their next team building Schumacher in a way that Kimi wasn't (and neither did Alonso in the end either)
For further reading on MS's team building, I highly recommend James Allen's book where he goes into depth on Schumacher and team building/management while at Ferrari.
So what about speed? Even if not the most important aspect, that's still central to an F1 driver. Well it appears Schumacher is faster as well. Michael Schumacher is a polymath, and in a strange way his other talents made him look slower than he was.
Also ironically, it is things that make popular consensus think Schumacher is slower that confirm to me that he is actually faster: His second career, and Rubens Barrichello.
Rubens made Michael look slower, and in turn Michael made Rubens look slow. Neither are as slow as they seem. It's a tad unfair to look slower just because you were much faster than a fast driver, but that's the nature of F1. Rubens was fast before Michael and was fast after Michael when apart from a shaky acclimatisation process to Honda, was as competitive with Button at 37/38 and fat, as Alonso was recently (Jock Clear says it was only Rubens's laziness by 2009 that stopped him winning the WDC that year, not his ability (
viewtopic.php?f=3&t=12995#p602250
).) I'd add lack of Brembo brakes to that top.
So if you were to map Rubens's career on a graph pre and post Ferrari, you see what his real place in the pecking order was.
I realise the following has an element of arbitrary assertion to it, but total accuracy isn't necessary: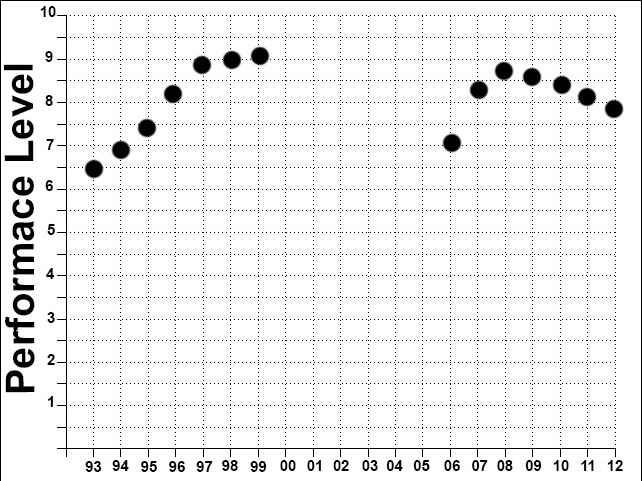 I think it's unlikely that Ruben's speed really went like this in real life, especially in a driver's peak years: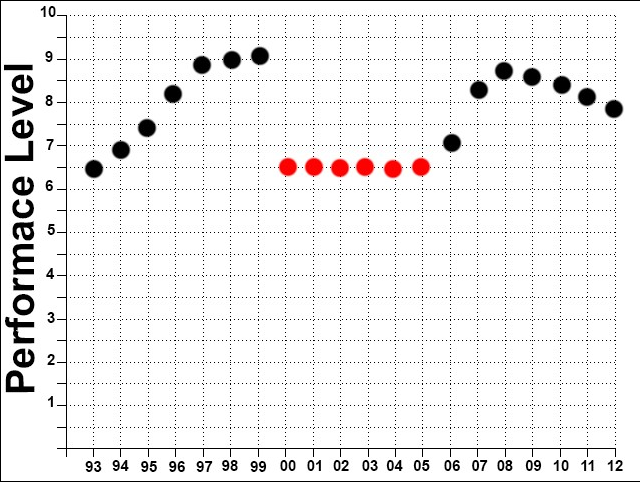 I think it was more realistically like this: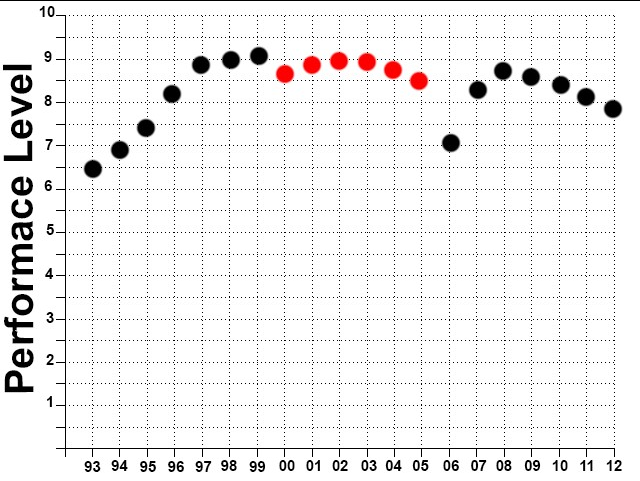 That would more likely put Rubens in his Ferrari years as on the level of JPM, Kimi and Alonso during the same period, excluding a poorer 2005.
I said the other confirmation of Schumacher's speed over Alonso was his second career. He took a couple of years to get into the swing of things but by 2012 he had about the same advantage over Rosberg as Hamilton had over him. At 41-43 and 3 years away, he definitely wasn't as good as before. Mark Hughes describes his reaction time struggles in the car here
http://news.bbc.co.uk/sport1/hi/motorsp ... 037790.stm
and Ross Brawn also admitted Michael's reactions couldn't keep up with what he used to be able to do anymore (sorry I don't have a link for that one though). So why does this make him faster? For Schumacher at 43, slowed reflexes, lingering brain damage from his motorcycle shunt which slowed his reflexes, stifled his motor functions further and reduced blood flow to the brain (
https://www.thinkspain.com/news-spain/2 ... irms-medic
), and couldn't use the simulator for practice like Nico because it made him sick, to have about the same advantage over Rosberg as Hamilton did at 29-31 y/o is a graphic demonstration of his speed superiority over everyone else – Hamilton will NOT be this fast when he is 43, let alone with brain damage. He will suffer the same declines as Schumacher and will be nowhere near his prime level.
Some point out that others have been competitive in their 40s, but not in this era they're not. There hasn't been a competitive 40+ year old in F1 in over 30 years (bar Mansell who was slow). That's because this past few eras of F1 cars have been a young man's sport, gone are the days when Brabham or Fangio can do anything quick with these cars in their 40s. Michael Schumacher has the distinction of being the only 40-something driver to be able to do this in modern F1.
Let's talk about MS's weaknesses. It's only fair. It seems that depending on the situation, Michael chooses to take too many risks at the wheel rather than play it "safe". He did that in 2005, the last few races of 2004, and his second career. If there is a commonality in those, it was a driver used to being at the front, finding himself further down with little to lose but to throw it around a bit more and see what happens, but I admit I'm guessing on that one. Apart from 2003, he makes less mistakes when there is a championship at stake (looking at all his 10 championship challenges as a whole) than when his is in an inconsequential situation. He even did it at the ROC when he spun off pushing too hard at the final corner in an inconsequential final race when all was lost, or the last corner of Imola 2005 when he locked up. It's hard to quantify which side of risk/safety coin is better really, because Heidfeld was a metronomically safe pair of hands but didn't have that extra push when he needed it, so who knows which has the best net benefit. Would Montoya be any good if he wasn't on the edge to the point of being error prone? 2003 was Michael's worst season and that has to go on his watch, but the other way of looking at it is Michael in his worst season still beat Kimi in his best season, so his net talent is his net talent.
How that compares with the others, I'd say Alonso is the least error prone of the 2, but honestly Heidfeld beats them both on that one. All hail Nick Heidfeld! (joke).
This has been a long post so I'll start to wrap it up...
Other things MS does that FA doesn't include:
- He purposely spins in FP1&2 practice to explore the limits of the car.
- He's made "lawyering" a thing in F1 (although Ross Brawn deserves his share of credit for that too) by pulling stunts like taking stop-go penalties after the race. It has got to the point where it is today part and parcel of the political shenanigans of the teams and drivers in the sport.
Let's see how Alonso compares directly with Schumacher on the following criteria for success in F1:
Team building – inferior to Schumacher. Alonso gets toxic during the hard times and isn't a leader.
Innovation – FA has done little to nothing of note to innovate the sport (certainly I can't think of anything), just like 99.9% of other F1 drivers haven't.
Invention - Ditto
Long term emotional intelligence – Alonso's bed that he's made for his career has been well documented and Brundle's tweet after Hungary alluded to it.
So all these factors contribute to Schumacher being the better driver by a wide, wide margin. Sure there may be faster drivers than him in the future (although Alonso and Hamilton aren't the ones, maybe Max will become the first) as young drivers are prepared earlier and earlier and sports science continues to improve. But whoever becomes faster than Michael would need to make a mark on the sport that transcends the speed, or be light years faster than anybody.
One other person has changed the sport like Schumacher, that was Jackie Stewart. But his safety campaign makes him great in a different way.
Going back to the Michael Jackson analogy - Usher, talented as he is, may be able to moonwalk as well as Michael Jackson, he may be able to sing as well as Michael Jackson, but he ain't no Michael Jackson. This comparison between Alonso and Michael Schumacher has been made for years and it totally misrepresents the difference between the two. To say FA is on the same level (let alone better than Schumacher) is not only wrong, it is wrong to the point of absurdity. Alonso may be able to turn a wheel as well as Schumacher, he may be able to feather a throttle as well as Schumacher, but he is certainly no Michael Schumacher.
Finally, for further reading on MS, I'm not an expert writer, the best expert writer on F1 driving I have seen is here (worth a read):
http://formula1-dictionary.net/senna_vs_schumacher.html