POBRatings wrote:
Hello everyone, my name is Brendan O'Brien – I'm Patrick's son.
Our family's grief since he died on Friday morning has been almost unbearable. I wanted to take the time to post though because, although my dad had many and varied interests and a wide group of friends across the world, F1 was his passion and this forum – and his many virtual friends on it - was an important part of that.
My dad took me to a number of Grands Prix in our native South Africa when I was a kid, showing me around the pits and once - in the early years, must've been around the late-70s - putting his hands over my ears when the noise of the cars going by on the straight startled me and made me cry. Despite thoroughly enjoying the experiences, though, I never really picked up his passion for F1 to the same extent. Rather, we had a shared passion for sports cars – his knowledge about their design and history was almost as vast as his knowledge about F1. Some of my happiest memories are of weekends spent with him in the garage at home in Johannesburg helping him to restore his two beloved Alfa Romeo Giulietta Sprint Speciales.
This is difficult to write. I keep cracking up.
He reminded me just a few weeks ago about how I had dragged him, 'kicking and screaming' (his words), onto the Planet F1 Forum back in 2011. Being of an earlier generation, and never a man with much patience for computers, it was an initial challenge to get him comfortable with the technicalities of posting and forum usage. I was determined that he should do this though - living in rural France, he needed an outlet for his F1 passion and you, the members of the PF1 Forum, provided that.
Most of you will be aware of the Ratings System that he had developed. He achieved so much in life, but the Ratings System was really his life's major work and the culmination of everything he knew about F1. My sister, Catherine, spent countless hours with him over the past 3 or 4 years to help him formalize the work into book form. He really valued the input and knowledge of so many forum members in discussing his work and testing his conclusions. I also know that he regarded and valued a number of forum members as genuine friends, although he never met any of you.
I am struggling to rationalize his death. He was active and fit, and living life as fully and with as much passion as ever. He was only 72, and had so much more to give. The best I can do is that his family and friends were lucky to have had him in their lives for the period that they did. He was the most thoroughly decent and kind man, and his empathy for all living things – whether human, animal or plant – was on an otherworldly level. Everything that is good in me, I learnt from him.
I moved out of home to go to university when I was 18. This was followed by various moves to countries overseas over the years, which meant that we typically only saw each other annually. In May 2016, however, I was able to fly him over from France to my home in Canada for a dream road trip for both of us. I fulfilled a long-held wish a few years ago of becoming a Porsche 911 owner, and my dad came over for a 4-day road trip with 10 Porsche friends of mine through the forested and winding roads of Pennsylvania, West Virginia and Virginia. The driving pace was at times spirited, and my dad said he could still hear the wonderful sound of flat 6s echoing in his mind for months after the trip. He seat-hopped from car-to-car through the trip, getting to know the others and sampling different flavours of Porsche. As was Dad's way, in the short time he knew the others on the trip, he made an impact with his kindness, his humour, and his genuine interest in others' lives. On the last day of the trip, which fell on his 72nd birthday, he and I peeled off from the group and made a special journey to Frank Lloyd Wright's masterpiece, Fallingwater, in southern Pennsylvania. One of his other passions (and, in fact, his profession) was architecture, and Fallingwater had been an icon to him since his student days. The in-depth house tour was a spiritual experience for him, and I am grateful we got to do the trip together.
He travelled over to Canada again in September 2016 with my mother to meet his first grandchild, my son, who was born in August. That was the last time I saw him. I had booked for him to come over for another Porsche road trip in May 2017. He was so excited about this and about meeting all of his Porsche friends from last year again.
I've written more than intended, and it's all been done in the midst of a grief I've never before experienced and which feels as though it will never end. However, I do want to thank you, his PF1 forum friends, for your engagement with him and for the knowledgeable outlet that you provided. It was important to him and he really appreciated it.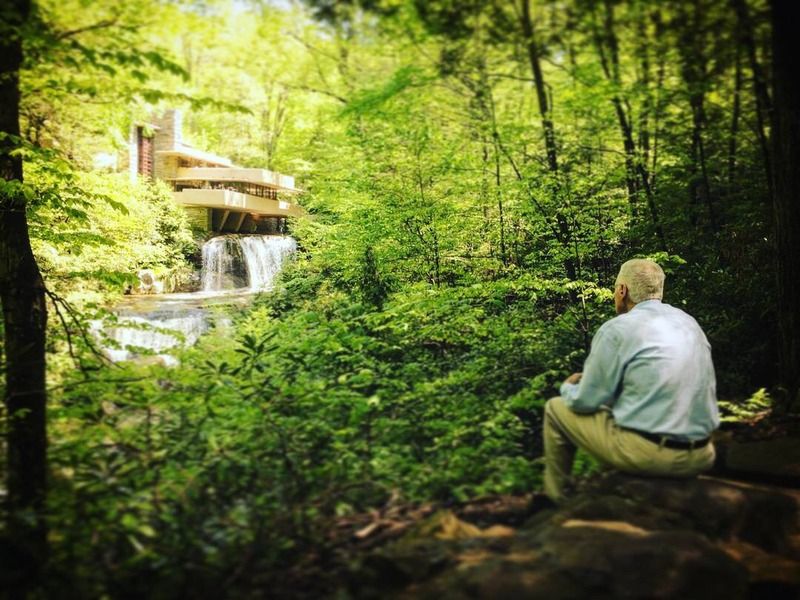 You know, I read this last night and I wanted to write something in response but was literally so choked up, both from your sad loss and the fact this awesome time was your last physical interaction with your dad. I have three mongrels and I do so many things they love to do because I want to share in these moments with them in the hopes they have stories of wonderful times and experiences they got to spend and share with their limping dad. The way you both speak of your father paints the picture that he was an even more wonderful human being than any of us imagined and his love for people in general and life itself was even grander than his love for F1 and all motorsport in general.
Even now, I'm feeling like when Obiwan Kenobi felt that disturbance in the force when the Deathstar blew up a planet and all those lives lost impacted him. (sorry for a movie reference, but my mind is a trove of pictures and moments that works just like Martin Tupper's did on Dream On) Somehow I'm picturing myself much like your dad is the picture, only I'm on a cliff of some sort looking into the distance knowing and feeling like the world lost someone that is of such importance to a vast number of people. I feel puzzled, bewildered, and somewhat lost, trying to make sense of this, outside the natural course of life.
While I grew up Catholic, I am by no means religious in any traditional sense, because everything I read, and was "taught" led me to the realization that if indeed there is a heaven, than all one needs to do to be invited is be kind to their fellow man, and give of oneself and lend a helping hand whenever possible, and do so without the expectation of getting anything in return, outside the gratification of knowing you've helped someone in some capacity. That being how I think of life, you dad received the biggest invitation of most anyone I've ever had the pleasure of encountering in my life, because outside Mother Teresa, you'd be hard pressed to come across another individual who is as genuinely kind, welcoming and understanding as Mr. Patrick O'Brien.
I lost my father in law June 3rd last year and he was more of a father to me than my own dad (difficult pain in the but as he was) and it was devastating then, and to this day when I go visit my mother in Law (also more mother to me than my own mom) I always feel like something is missing. And while time heals all, when people like your father touch others' lives, the loss is genuinely felt by every one of those souls he touched as if they've lost someone in their own family.
I wish you both, and everyone else the very best during this difficult time, but take solace in knowing you had the esteemed privilege of having Patrick O'Brien as you father, though as with any parent, I'm sure he felt quite the opposite… He was privileged to have been your father.
Thanks again for taking the time to let all of us know of your father's passing. I know it wasn't easy, but rest assured all of us are grateful for you guys having done so.
I wish you guys all the best moving forward in your lives.
--
ROB.